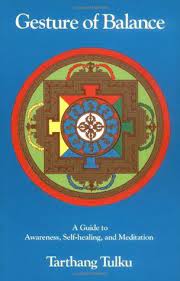 Date:
Wednesday 27 September 2023 (18:30 -20:00)

Location:
Bangkok Shambhala Meditation Center
Join us for a meditation, reading and discussion class every Wednesday evening from 6:30pm - 8pm. Join by Google Meet or attend the class in person at the Shambhala Center.
This weekly event includes group meditation, followed by reading of a chapter from the current book, followed by group discussion on the material, plus refreshments and social time at the end.
Readings and discussions are based on the book,
"

Gesture of Balance: A Guide to Awareness, Self-Healing, & Meditation", by Tarthang Tulk. This book presents topics relevant to daily life that turn the mind to the Dharma: the truths of impermanence; honesty, the starting point for change; taking responsibility; awakening compassion; relaxation and meditation; and discovering and experiencing the natural state of mind. In clear, direct language,

Gesture of Balance

relates the profound insights of an ancient wisdom tradition to our present situation, showing us how to develop our inner resources and awaken body, mind, and senses to new horizons of experience. Tarthang Tulku speaks to us like a good friend, offering ways to clear away confusion, strengthen self-confidence, and brighten our lives with meaning and joy.
You won't need to have your own copy. We'll read aloud together.
This is a wonderful opportunity to meditate in a supportive group setting, learn about the principles of meditation, and to meet and mingle with fellow practitioners (bring your friends)! We welcome both newcomers and familiar faces. No previous experience needed. Come to one class, or come every week.
This is a drop-in class. No previous attendance, registration, or fee is required. Donations are always appreciated, but not mandatory.
Join the class by Google Meet (https://meet.google.com/ryj-qvkf-jrt), or attend the class in person at the Shambhala Center.