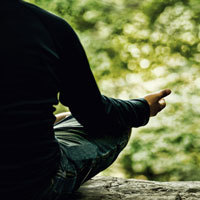 DATE:
Saturday 25 September 2021 (16:00 -18:00)
Saturday 2 October 2021 (16:00 -18:00)
Saturday 9 October 2021 (16:00 -18:00)
Saturday 16 October 2021 (16:00 -18:00)
Saturday 23 October 2021 (16:00 -18:00)

LOCATION:
Bangkok Shambhala Meditation Center
TEACHER_MALE :
Jamie Reinhardt
Saturdays, September 25th - October 23rd, from 4-6pm, on Google Meet
Meditation uncovers our wisdom. This wisdom is always present, and can be applied to transform confused situations and emotions into effective actions.
Wisdom in Everyday Life explores the qualities of a master warrior, whose vastness of mind and kindness fully manifest in the world. The master warrior is no longer deterred or depressed by obstacles. With tremendous forward vision and strength, this person playfully includes everything as part of the path. In this way, the warrior can skillfully benefit the world.
The challenges of daily life become opportunities for both contemplative practice and social and ecological action. We will receive practical instructions for discovering trust and magic.
This course introduces the vajrayana teachings of Buddhism, which reveal the sacredness of the phenomenal world. Students will receive essential instructions for transforming confused emotions and situations into wisdom as they arise.
Prerequisites: Fearlessness in Everyday Life
Recommended: Shambhala Training V
Please plan to attend each session of the program.
https://vimeopro.com/shambhalaonline/way-of-shambhala-course-invitations/video/110031802
The fee for the classes is 1500 Baht per person, which includes the reading/study material. Early bird registration (paid in full before September 20th) is 1200 Baht.
Class meetings will be on Google Meet until it's possible to meet in person again.