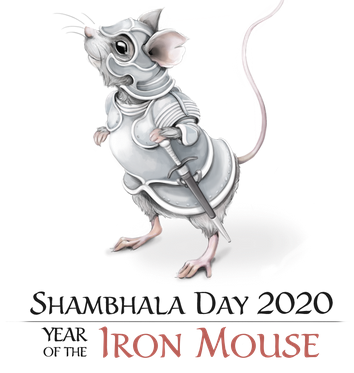 Date:
Monday 24 February 2020 (09:00 -10:30)

Location:
Bangkok Shambhala Meditation Center
Join us for a special practice session in celebration of Shambhala Day and the beginning of the year of the Iron Mouse!
SHAMBHALA DAY (Losar) marks the beginning of the lunar New Year, and represents one of the most important traditions in Vajrayana Buddhism. The day is calculated astrologically according to the Tibetan lunar calendar, and changes every year to coincide with the annual lunar cycles. Shambhala Day is a time for us to express the wealth and richness of our spiritual and cultural heritage through feasting, conviviality, and elegance! It's a tradition to dress up for these occasions to express basic goodness and uplift one's life force (windhorse) energy. We'll be celebrating and practicing together throughout the week to offer different opportunities and ways to connect.
We'll begin this morning's session with a short (lhasang) blessing, followed by a meditation and contemplation practice called the Elixir of Life Sadhana.
Members of the Shambhala community are encouraged to make donations to Shambhala International in order to help support the activities of our worldwide mandala. Donations can be made in cash at the event, or online (http://shambhala.org/giving) at any time before or after.
No registration, fee, or donation is required to join.