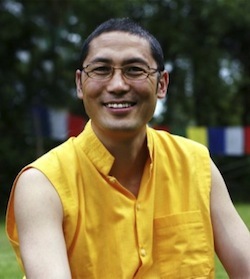 Date:
Monday 27 January 2020 (18:30 -20:00)

Location:
Bangkok Shambhala Meditation Center
Contact person : Jamie Reinhardt
6:30 pm -8pm. Open to all. By donation
We're delighted to welcome Kilung Rinpoche back for another evening presentation at our center here in Bangkok!
Kilung Rinpoche is a very highly regarded Nyingma lama from Tibet, excellent in English, with a delightful, dogma-free, spontaneous speaking style. He is firmly rooted in the tradition of the fifth reincarnation of Ngotsar Gyatso, an enlightened yogi of the 18th century. Rinpoche is the author of the book, The Relaxed Mind, which was released a few years ago by Shambhala Publications; www.shambhala.com/the-relaxed-mind.html.
There is no charge for attending this evenings' talk; donations are appreciated.