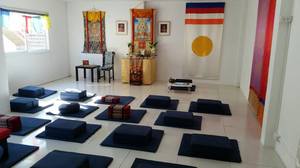 DATE:
Tuesday 3 November 2020 (08:30 -09:00)

LOCATION:
Bangkok Shambhala Meditation Center
Start your day off with meditation!
Join us every Tuesday for a morning meditation session. Open to everyone. It is fine to arrive late or leave early, as your schedule permits. We'll begin the practice session with a short set of traditional Shambhala opening chants (in English).
If it's your first time (and you'd like to receive meditation instructions), please arrive a few minutes early, to make sure you don't miss the start of the session.
This is a drop in class, no registration is required, and there's no charge for joining (donations appreciated).