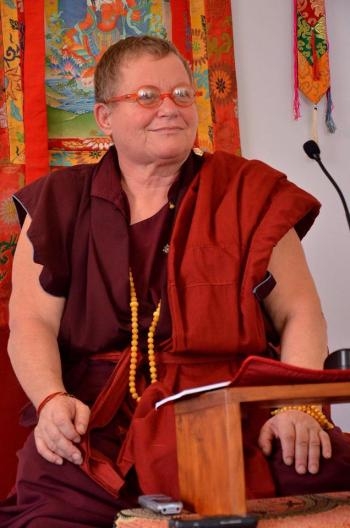 Date:
Wednesday 6 November 2019 (19:00 -21:00)

Location:
Bangkok Shambhala Meditation Center
Join us for a public talk by the Venerable Ani Zamba, from 7-9pm
We are extremely pleased to welcome the venerable Ani Zamba back to the Bangkok Shambhala Meditation Center, for a public talk! This evening, she will speak on the topic of "understanding the source of all our experience". There is no registration required, and no charge for joining. We expect a full house though, so please be sure to arrive a bit early to make sure you get a seat.

Ven. Bhikshuni Zamba Chozom was born in the UK but travelled to Asia in the 60s where she ordained as a Buddhist monastic. She has been studying and practicing Buddhism for almost 50 years. During that time she studied under some of the greatest meditation masters of the last centuary. Not only from the Tiibetan practice lineages but also Thai, Burmese , Korean and Chinese lineages as well. Such masters as H.H. Dalai Lama, Kyabje Dungsei Thinley Norbu Rinpoche who is her principal teacher but also H.H. Dudjom Rinpoche HH Dilgo Khyentse Rinpoche, Dzongsar Khyentse and Chagdud Rinpoche to name but a few from the Tibetan lineage but also from the Thai practice lineages of Ajahn Chah and Achaan Buddhadasa., Later in the 80's she specifically went to Korea to study and practice in the lineage of Son Buddhism under the renowned Son master Ven. Ku San Sunim then later in the 90's while living in Hong kong and China she began to practice with the Chinese Chan Lineage of the great Chan master "Empty Cloud' Xu Yun. All in all Ani Zamba spent 30 years in Asia until the end of the 90's when she was invited to Brazil to be the Buddhist representative for the North-East of the country She undertook the responsibility of coordinating and teaching at more than 11 centres around Brazil,as well as initiating an assocation that focused on projects both Physically and Psychologically based to gather the elements that she felt were really neccessary for Human Development to flourish. This Association is called "Dipamkara's Vision" Presently as well as teaching in various countries around the world, she is currently constructing a retreat centre in Central Brazil called Ati-ling for people who value the possibility of intensive practice with supportive conditions for long, medium and short term retreats. As she herself has spent many years in solitary retreats and this allowed her to see the value of intensive practice and inspired her to be able to offer a similar conducive environment for others to benefit as well.